Temp Re Build Warehouse Solutions
With Halloween stockpiling onto your shelves and filling out your stores, it won't be long until the lucrative Christmas season is in full swing. If you're struggling to find a storage area to sort out your stock and have it ready in time for the Christmas rush, then Temp-re Build may have a solution just for you. We provide fast assembly temporary warehouse solutions which can help in the short term with your business operations. So if you're feeling under pressure with lots of stock to be piled high for Halloween Christmas, why not contact a member of our experienced Temp-re Build team who can assess your needs and provide a cost effective bespoke solution just for you.
Despite the economic gloom predicted by the Brexit vote, the UK economy is booming largely due to the weak pound which augurs well for exports. So why not take advantage of those positive market conditions and order in as much stock as your business plan allows safe in the knowledge that you do have a storage solution which is affordable and can store your stock safely. "The beauty of Temp-Re Build storage" explains Ian Graney, owner of Temp-Re Build, "is that storage can be erected extremely quickly to suit instant business needs, enabling you to take advantage of immediate environmental conditions. Moreover, we can scale the solution up or down as you require and extend the contract if you feel you need more time to decide if you'd like to keep your warehouse or make it bigger. Ultimately, we provide flexibility for businesses so they can factor in changing market conditions".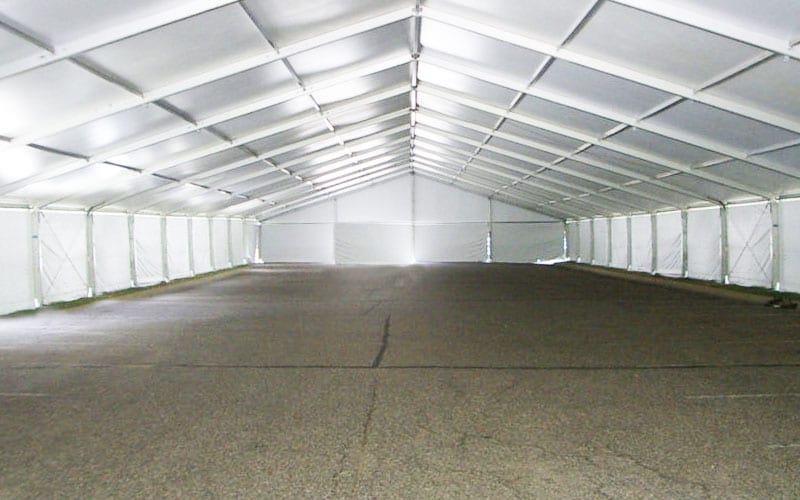 Temp-re Build have a number of different solutions depending on the type of storage you require. For example, if you require an extension to your retail space where you will have shoppers browsing through stock, you'll want to ensure that your warehouse is temperature controlled and can be cooled and heated as you require and also that stock is kept at the right temperature also. In this case we would recommend a warehouse which has thermo double skin for ease of heating and cooling 40mm UPVC walls and single and double personnel fire doors at either end to ensure fast ingress and egress of customers should you have to evacuate. You will also have to ensure that you have installed the DDA compliant door option which will provide automatic door opening for wheelchair and disabled access and perhaps ensure that you have w.c. available for DDA compliance either in the new warehouse or on your existing premises.
We can also advise on the best type of windows, and what kind of roller doors you may be best to fit depending on your stock and business type. For example, you may require access for small pallet lifting trucks in which case installing a roller door is the perfect solution for moving bulky stock around such as bathroom or furniture stock. So if you'd like to find out more about warehouse specifications, why not talk to our team today on 01889 507598|sales@temp-re-build.co.uk